You are viewing the website for the aac-rerc, which was funded by NIDRR from 2008-2013.
For information on the new RERC on AAC, funded by NIDILRR from 2014-2019, please visit rerc-aac.psu.edu.
---
Student Design Project
Tom Jakobs (Invotek, Inc.)
Kevin Caves (Duke University)
Challenge:
Designing devices accessible to people with disabilities requires that engineers have an awareness not taught in typical engineering classes. This project offers engineering students an opportunity to apply their skills to real-world challenges for people with disabilities, with a focus on communication needs.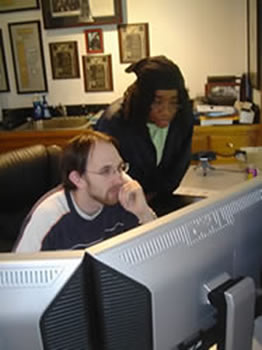 Goals:
• Build disability awareness within the engineering community
• Encourage engineering students to address the needs of people with disabilities
• Measure impact
Activities:
• Provide examples of engineering projects that met the needs of a person with disabilities
• Offer new project ideas
• Develop class support materials for students and professors
• Offer email engineering support to students undertaking projects
• Monitor website activity and develop surveys to assist in measuring impact
Knowledge Transfer
Sample Projects
| | |
| --- | --- |
| | Invotek and University of Arkansas Computer Science students developed a new keyboard for people who cannot use their hands to type on standard keyboards. |
| | This project developed a special tip for a head pointer so that the client could access an iPhone reliably. |
RESNA Student Design Competition
| | |
| --- | --- |
| | RESNA and the AAC-RERC have partnered to create the RESNA Student Design Competition website. David McNaughton (Penn State) and Maureen Linden (Georgia Tech) have developed and maintained a site featuring submissions to the 2010, 2011, 2012, and 2013 competitions. |
| | |